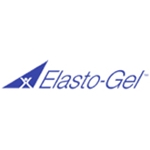 Elasto-Gel Therapy Wrap
from HealthyKin.com is flexible, gel-covered with 4-way stretch material to allow maximum conformity, heat transfer and comfort. Use hot or cold; retains temperature for 20-30 minutes. Stays soft and flexible. Microwavable. Velcro closure for easy positioning (9" width wraps have double Velcro closures). A single product serves for both hot and cold applications.
Elasto-Gel Therapy Wraps are especially suited for use in the home, on the athletic field or in a health carefacility. Individuals using Elasto-Gel therapy products can move about once the wrap is secured in place. If the product is used for cold therapy, the product will remain flexible even at -20 F. All Elasto-Gel therapy products are microwaveable and will not leak if punctured.
Elasto-Gel Therapy Wrap Features:
Microwaveable
Single product hot or cold
Will not leak if punctured
Will not dry out
Exceptional conformability
Durable and comfortable
Easy to use
Elasto-Gel products are latex free
Part numbers: TW6002, TW6001, TW6005, TW6030, TW6010, TW6040
Search by Brand
Search by Category
Shopping Cart
(0 items)
Sub Total: $0.00