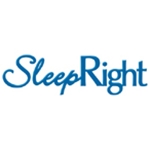 Select Options
Travel, Small, 16" x 12" x 3" - 
$49.95
Travel, Medium, 16" x 12" x 4" - 
$49.95
Standard, Small, 24" x 12" x 3" - 
$62.95
Standard, Medium, 24" x 12" x 4" - 
$62.95
Standard, Large, 24" x 12" x 5" - 
$70.95
SleepRight Side Sleeping Pillow
from HealthyKin.com provides maximum support and superior comfort for the head, neck, and shoulders so you can expect restful sleep. Sleep studies indicate that side sleeping habits are 95% more prevalent when compared to sleeping on the back. Orthopedically correct side sleeping posture is now made possible by the latest in sleep technology with the SleepRight Side Sleeping Foam Pillow.
The SleepRight Side Sleeping Foam Pillow is made from premium Visco-elastic memory foam, originally developed by NASA. This pressure relieving memory foam is sensitive to body temperature and weight, easily conforming to your own personal anatomy. We guarantee our foam pillow to be made of the highest quality memory foam available with a 5-year warranty.
Includes a machine washable, hypo-allergenic, cotton velour cover. However, if desired, your favorite standard pillowcase provides a nice feel without the velour cover.
The Visco-elastic memory foam pillow conforms to your facial contours by taking an impression of your head and neck anatomy. This greatly minimizes the unwanted side effects of pressure points, which is a benefit unavailable in regular pillows. As your head settles into the full facial cradle, the memory foam pillow will softly conform to your personal anatomy. The memory foam will automatically adjust to your body temperature and head weight as your head and neck stabilize in its resting place. When equalization between head weight and the elasticity of the memory foam pillow is achieved, your head and neck posture will be ideally aligned with your spinal column.
SleepRight Side Sleeping Pillow Features:
Provides maximum support and superior comfort for the head, neck, and shoulders
Full facial cradle designed to reduce pressure on the jaw and ear, helping to relax the facial area
Gently cradles the face, providing comfort and support
Left and right airway systems maximize airflow to improve breathing and help reduce snoring
12° shoulder cradle provides orthopedically correct support for the head and neck to maintain ideal spinal alignment
Reduces body weight impact on the shoulder, increasing blood flow to the arms
Pillow case included
5 year warranty
SleepRight Side Sleeping Pillow Sizing:
Travel - for traveling
Small - for 5'4" and shorter
Medium - for 5'5" and taller
Large - for 5'10" and taller with broad shoulders
Part numbers: SRP163, SRP164, SRP243, SRP244, SRP245
Search by Brand
Search by Category
Shopping Cart
(0 items)
Sub Total: $0.00