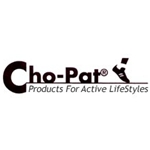 Select Options
Beige, Medium (12½"-14½") - 
$12.95
Beige, Large (14½"-16½") - 
$12.95
Beige, X-Large (16½"-18") - 
$12.95
Beige, XX-Large (18"-21") - 
$12.95
Cho-Pat Original Knee Strap
from HealthyKin.com has been praised for two decades by orthopedic surgeons, rheumatologists, podiatrists, family-practice physicians, physical therapists and their patients, professional athletes, and active individuals. Why? Shortly after initial usage, it provides many individuals with a marked reduction in the pain and discomfort caused by various knee disorders -- chondromalacia patella, Osgood Schlatter's Disease, runner's and jumper's knee, some forms of arthritis, and knee degeneration -- while, at the same time, allows them to return to their normal activities with increased mobility.
Cho-Pat's Original Knee Strap stabilizes and tightens up on the kneecap mechanism by applying pressure upon the patellar tendon below the kneecap. This compression reduces or eliminates inflammation and helps prevent knees from giving out.
Cho-Pat Original Knee Strap Features:
Provides symptomatic relief of acute and chronic pain
Functions dynamically as the knee bends and straightens
Elevates the knee slightly, further relieving pressure
Tricot-covered 1/4" foam strap with Velcro® closures in the back
Cho-Pat Original Knee Strap Sizing:
Measure leg circumference just below kneecap.
Part numbers: CP-17, CP-19, CP-21, CP-22
Search by Brand
Search by Category
Shopping Cart
(0 items)
Sub Total: $0.00